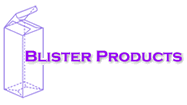 Although the use of packaging insert trays is widespread, many people do not consider incorporating a clam shell feature into the design of a tray. Of course, the graphics may be more limited than with a folding carton, but there are other major advantage
- Shoppers are able to view the product easily from many angles.
- Can be designed to hang on peg walls.
- Minimizes cost by combining 2 packaging components into one.
- Protects products better than standard trays.